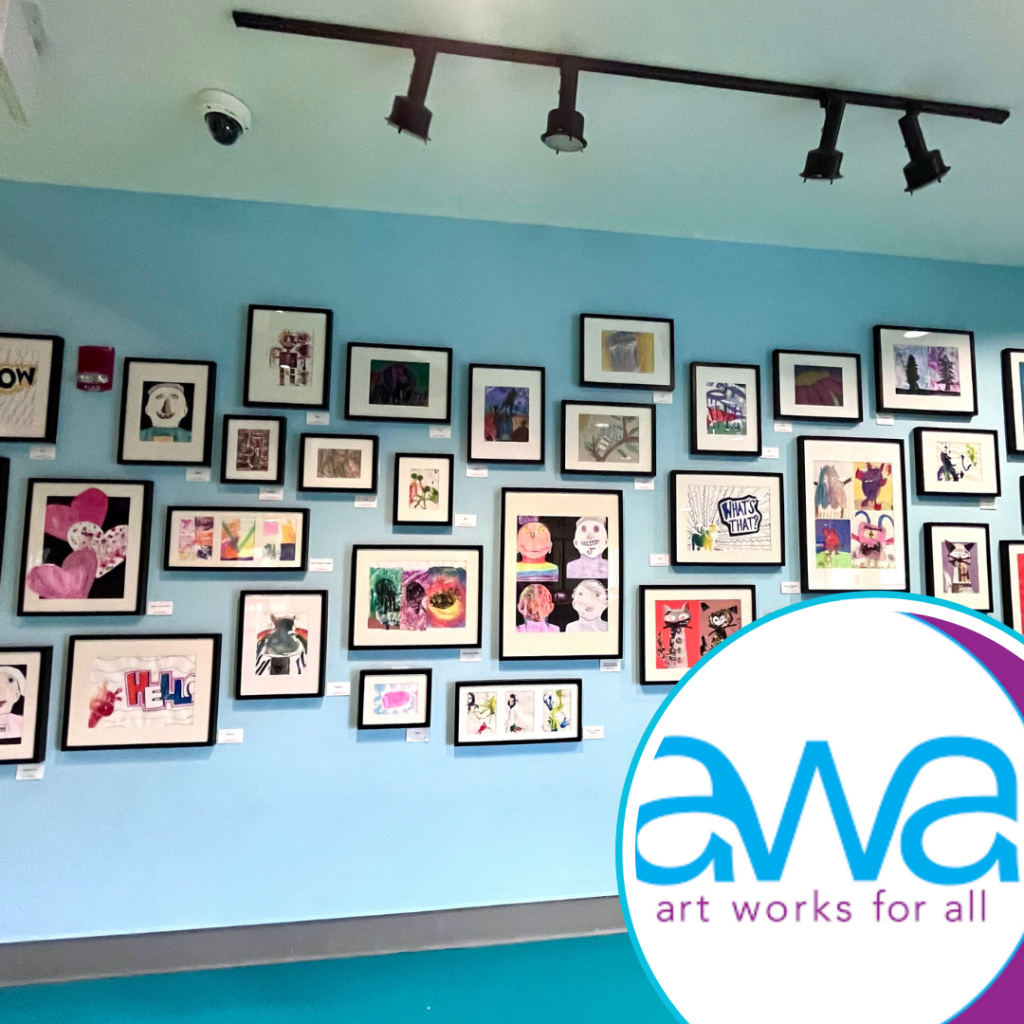 Art Works for All
Art Works for All connects the arts, disability and education communities. Their Celebration of Creativity art exhibition presents artwork created by individuals with disabilities. Artist participants created artwork through unique art education programming facilitated by Art Works for All's Artist Residency program. The Celebration of Creativity exhibition is funded, in part, by the generosity of M&T Bank.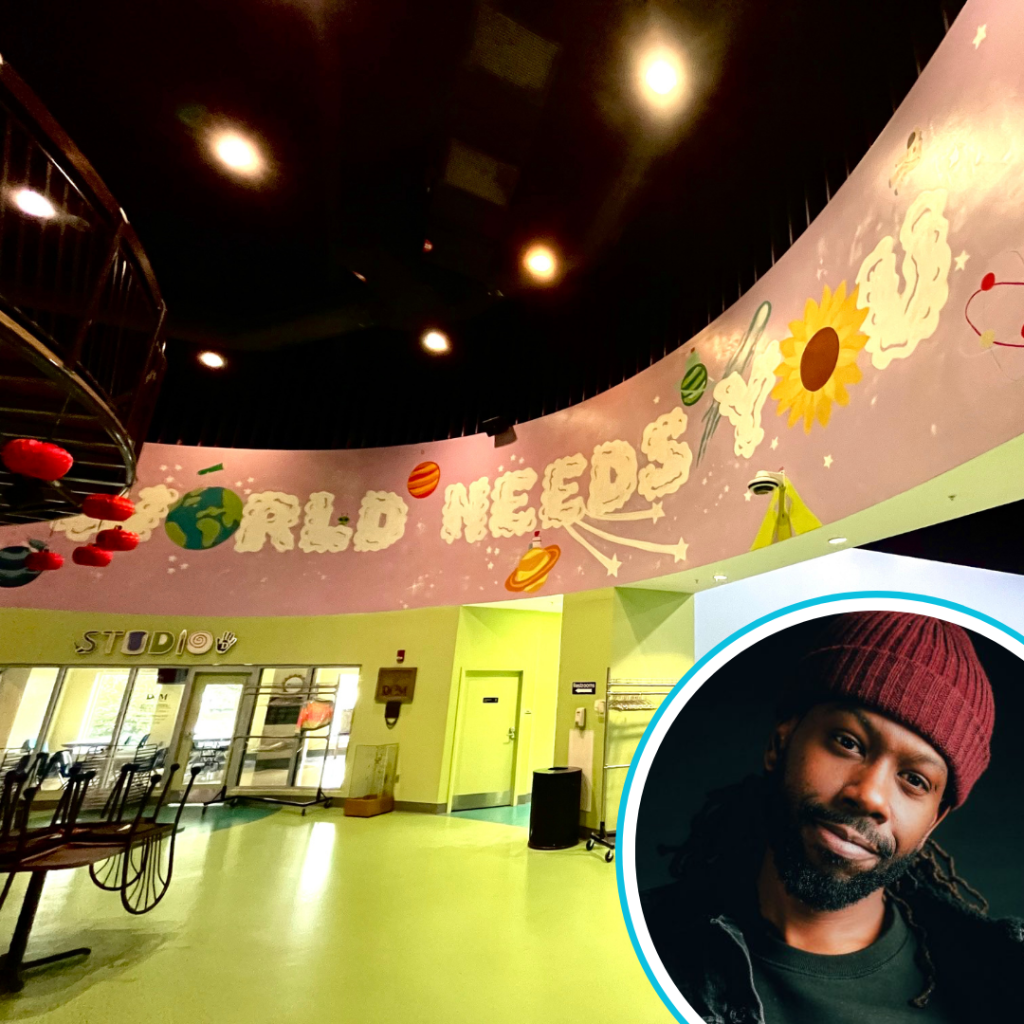 The World Needs You Mural
Jarret "Posi" Harris' creativity was developed as a youth growing up on the peaceful waters of the Chesapeake Bay in Havre de Grace, Maryland. Harris does not favor one medium, but instead integrated his abstract and whimsical style of image production across various formats: murals, canvas, prints, installations, clothing, and sculpture.
The World Needs You was commissioned as part of a collaboration between The Delaware Contemporary and The Delaware Children's Museum during the Summer of 2022.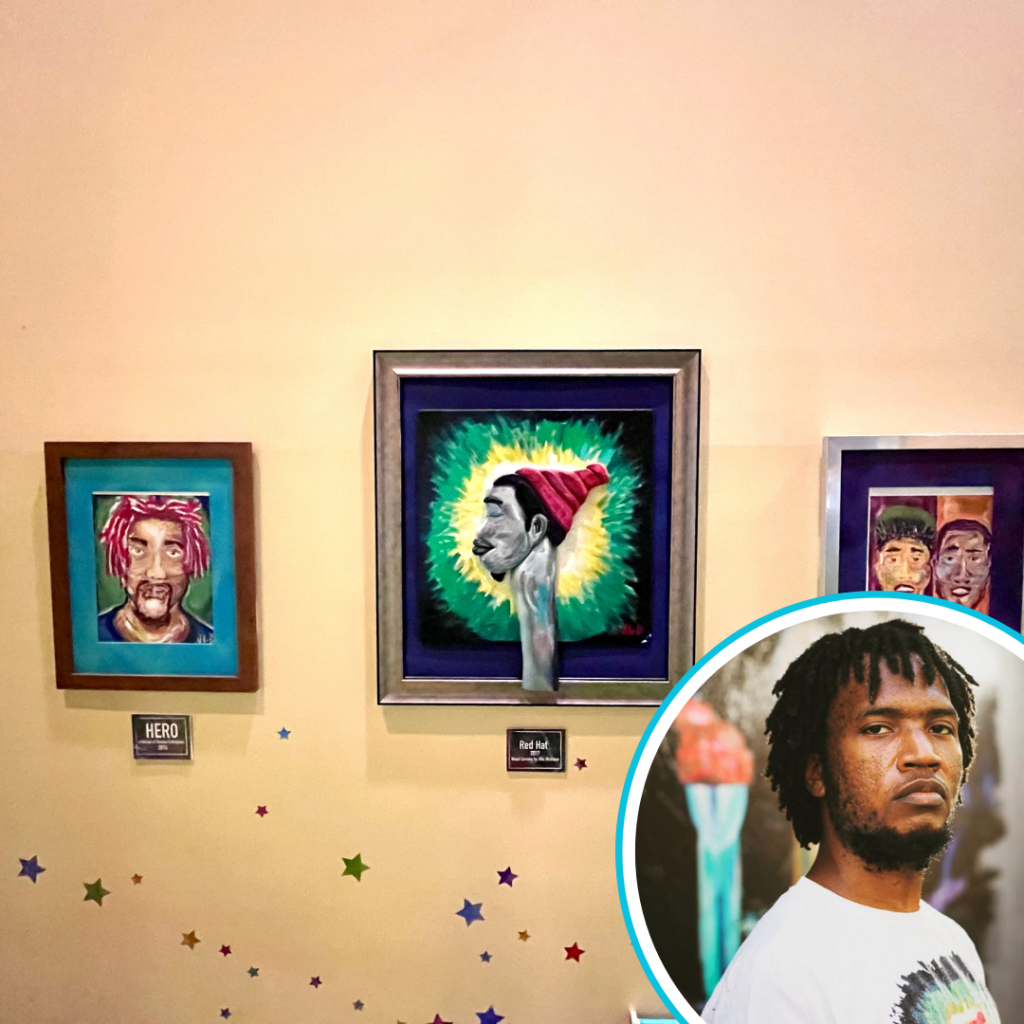 YOU-nique Gallery Art
JaQuanne Leroy is a creative based out of Wilmington, DE. A graduate of Alexis I. DuPont High School, where he studied clothing and textiles and computer information systems, he has always had a passion for all things creative. He studied Education and Visual Communications at Delaware Technical Community College.
JaQuanne's artwork at DCM is an expression of ideas and emotions: destiny, victory, optimism, joy, love, and freedom.
More of his artwork can be found at: https://www.artpal.com/jaquanne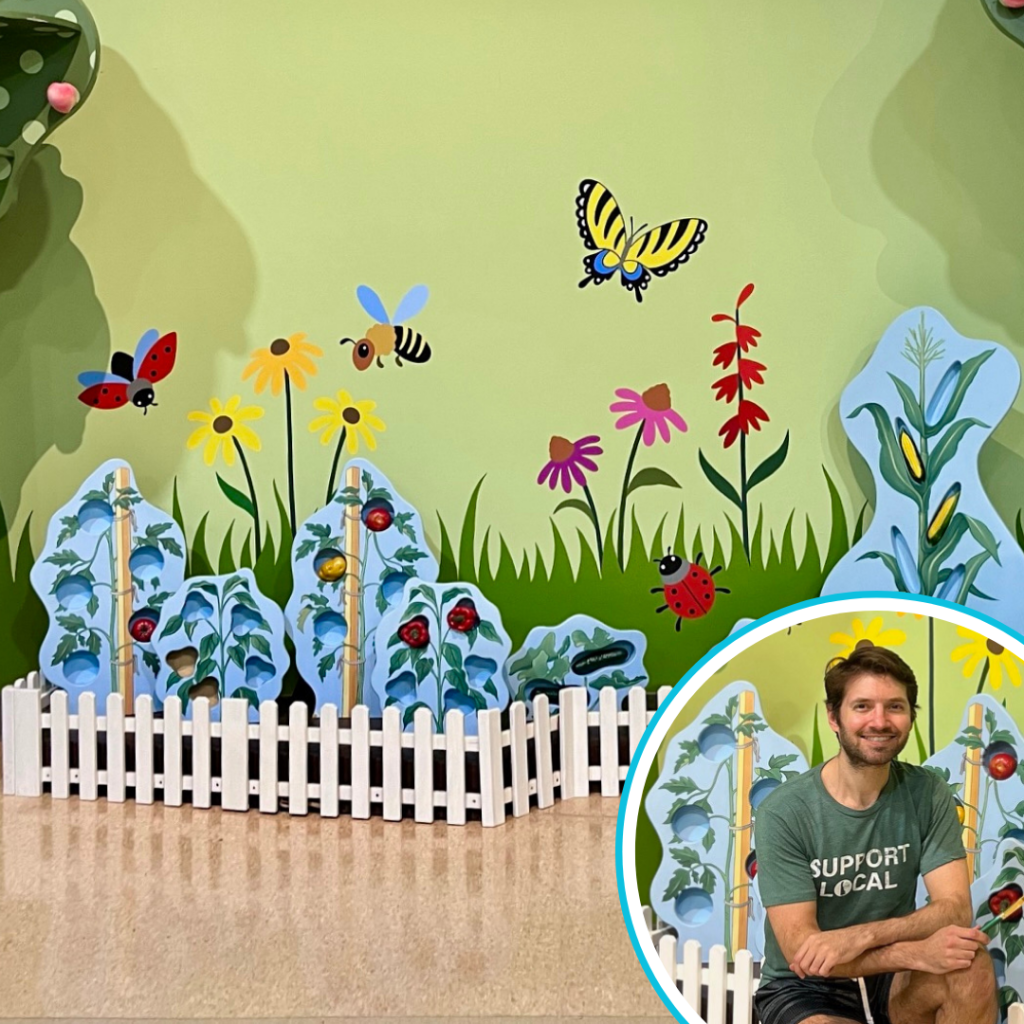 Delaware Garden Mural
Matt Terranova (Colorful Matt Design) is an illustrator, mural painter, and graphic artist based in Delaware. His style is all about mixing fun and vibrancy with precision and attention to detail. His work can be found in dozens of schools, libraries, churches, offices, and private homes in the tri-state area.
For the Delaware Garden mural, Matt created a whimsical flower garden with flora and fauna native to Delaware. This can be found in the Farm-to-Table exhibit.
More of Matt's work can be found at www.colorfulmatt.com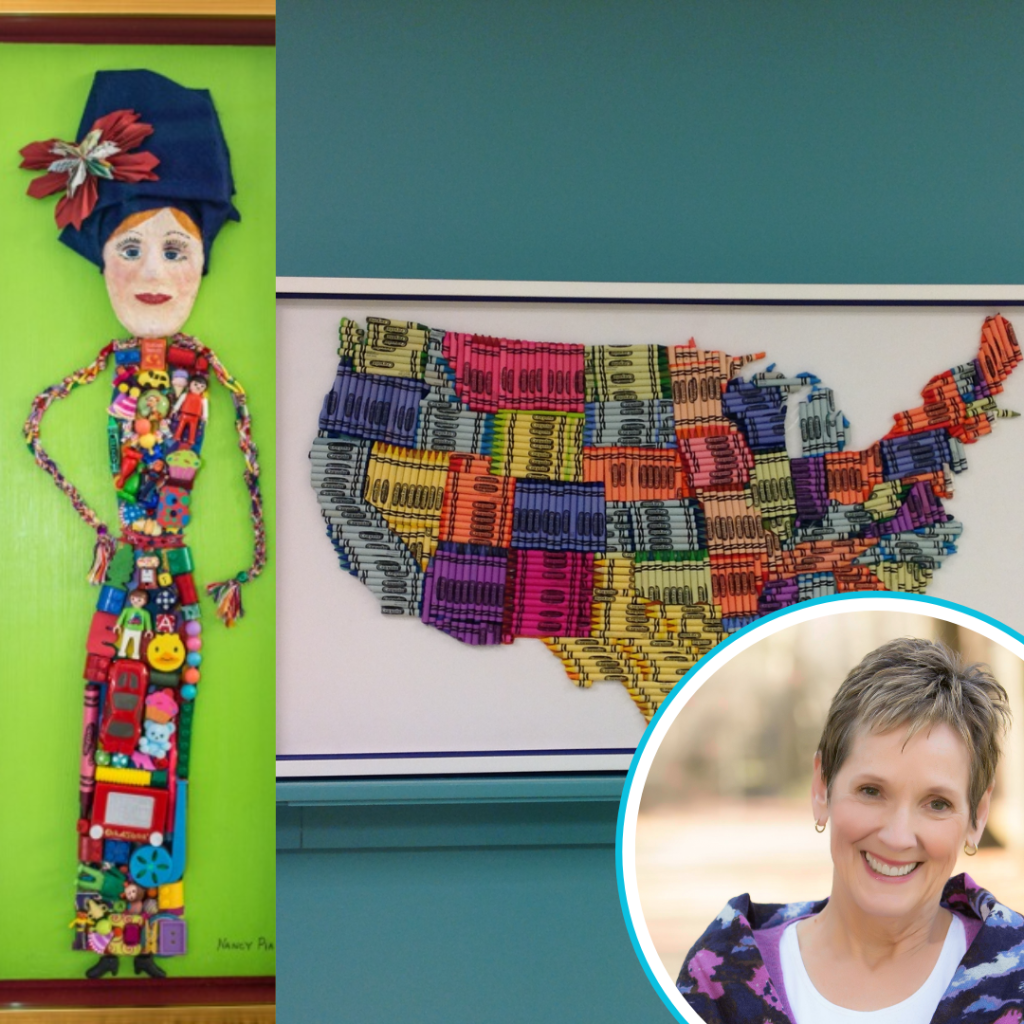 Upcycled Found Object Art
Nancy Pia is an author, educator, and visual artist who works with a wide variety of media. Her recent focus is on playful collage and assemblage which inspired children to use their imaginations to transform ordinary found materials into unpredictable and fun works of art.
Her art has been exhibited in museums, galleries, schools and other institutions, and are included in both private and corporate collections.
Nancy is a lifelong student with an ever-evolving openness to all things creative. She is the mother of four children, has four grandchildren, and lives in Chadds Ford, Pennsylvania with her husband, Michael.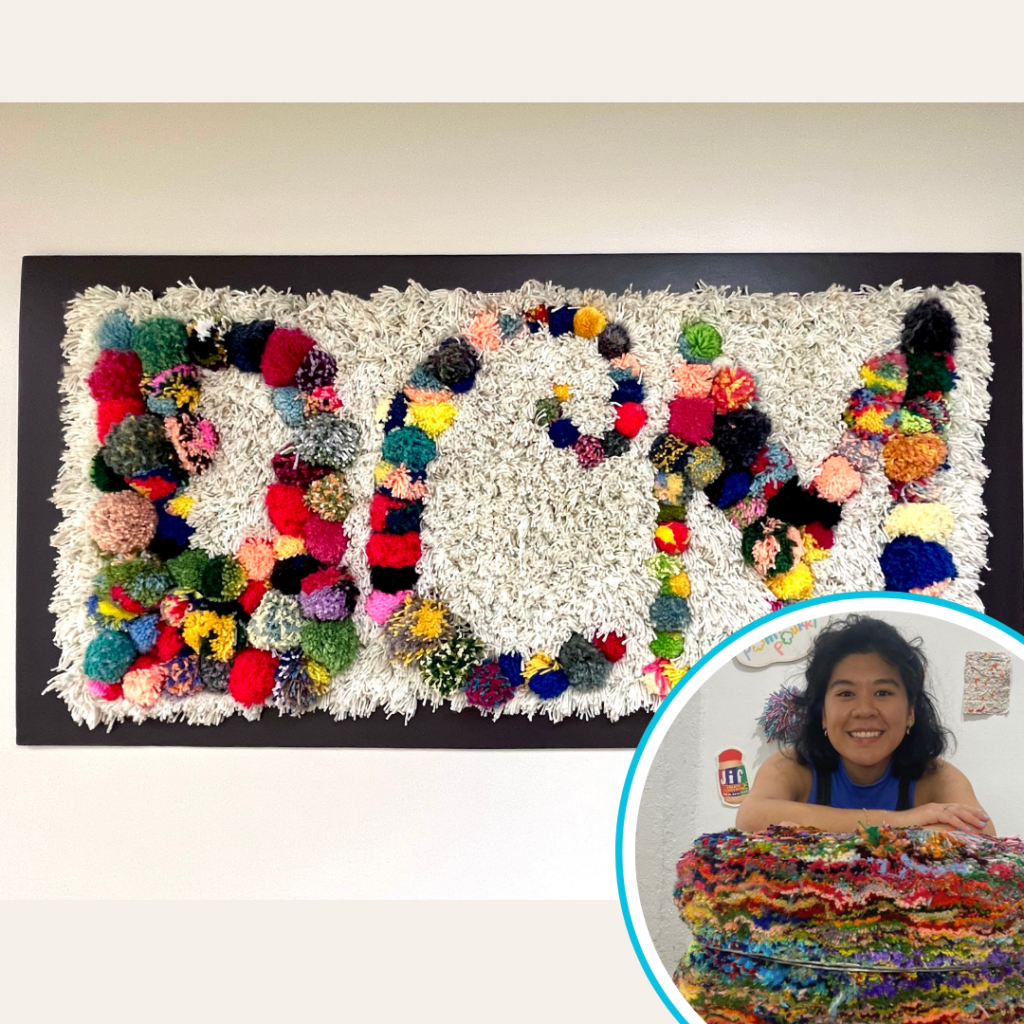 DCM Pompom Art
"A pompom is made up of hundreds of yarns held together by a single thread – it is a metaphor for being part of a whole." – Karyn Lao
Karyn Lao is a multimedia artist whose work explores interconnectivity through play. She believes pompoms have the power to bring communities together through experiments with color, material, place, and participation. The pompoms featured here were created during a pom party at the DCM!
More of Karyn's work can be found at www.karynlao.com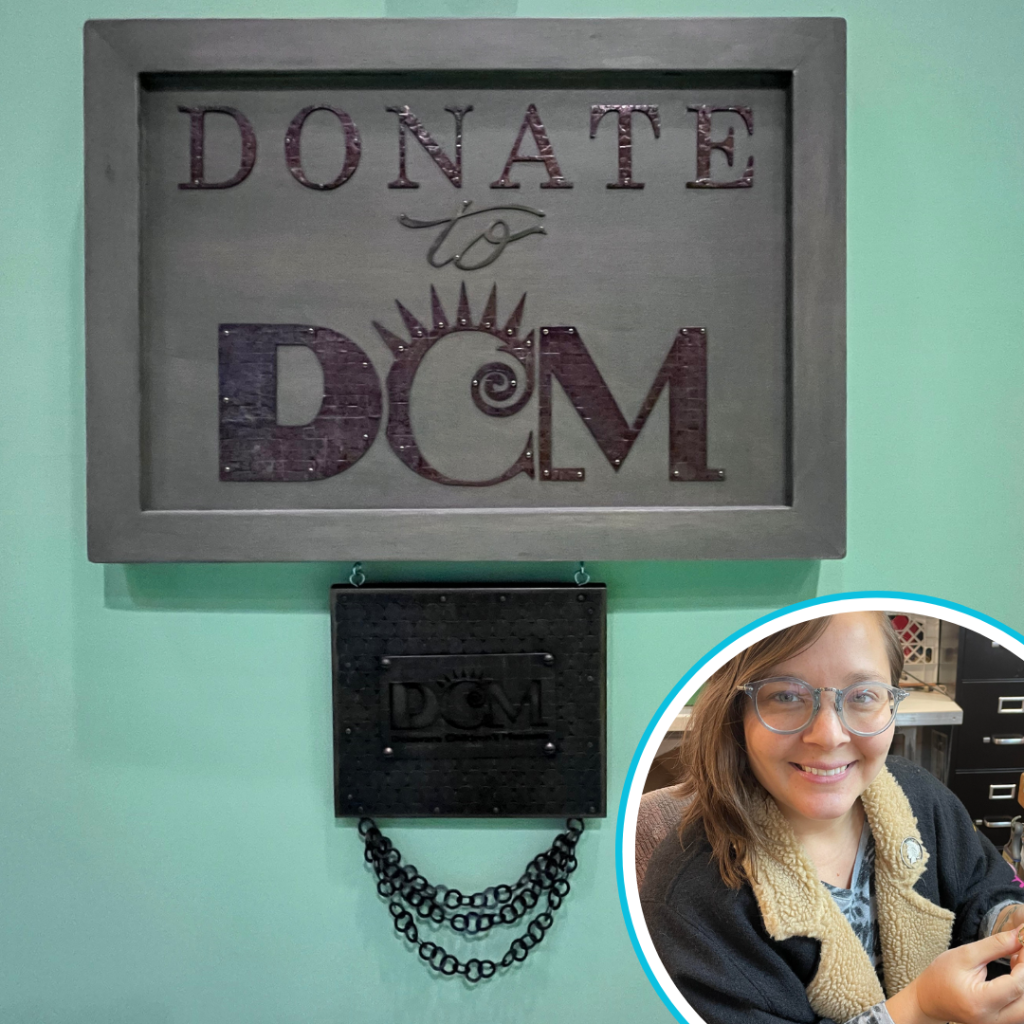 DCM Penny Sculpture
Stacey Lee Webber is a Philadelphia-based artist who has made a career of making and selling artwork and jewelry. Webber has exhibited her work around the world and her work has been curated into the permanent collections of notable museums around the country. As a contemporary artist, Webber cherishes working with found materials whose history is physically evident. Her practice incorporated a wide range of techniques including coin cutting, embroidery, metal fabrication, weaving and resin pouring.
More of Stacey's work can be found at www.staceyleewebber.com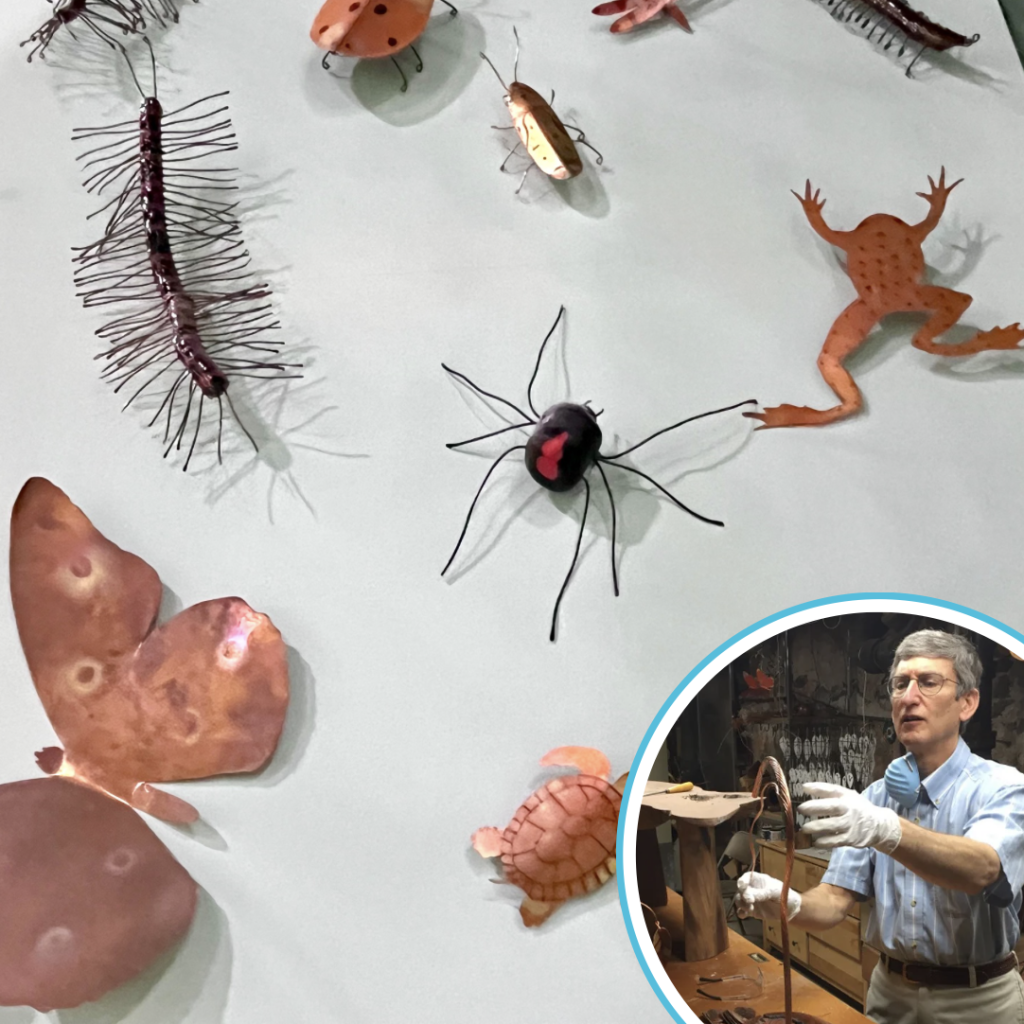 Copper Art
Edward Yalisove is a self-taught coppersmith who has been creating art with the medium for over 30 years. His love of nature and wilderness adventures have influenced his work. He has avoided any formal art education, opting to instead develop his own unique style. His works have also been featured in the Delaware Art Museum, Blue Heron Gallery, SOTA-Spirit of the Artist, and Artworks.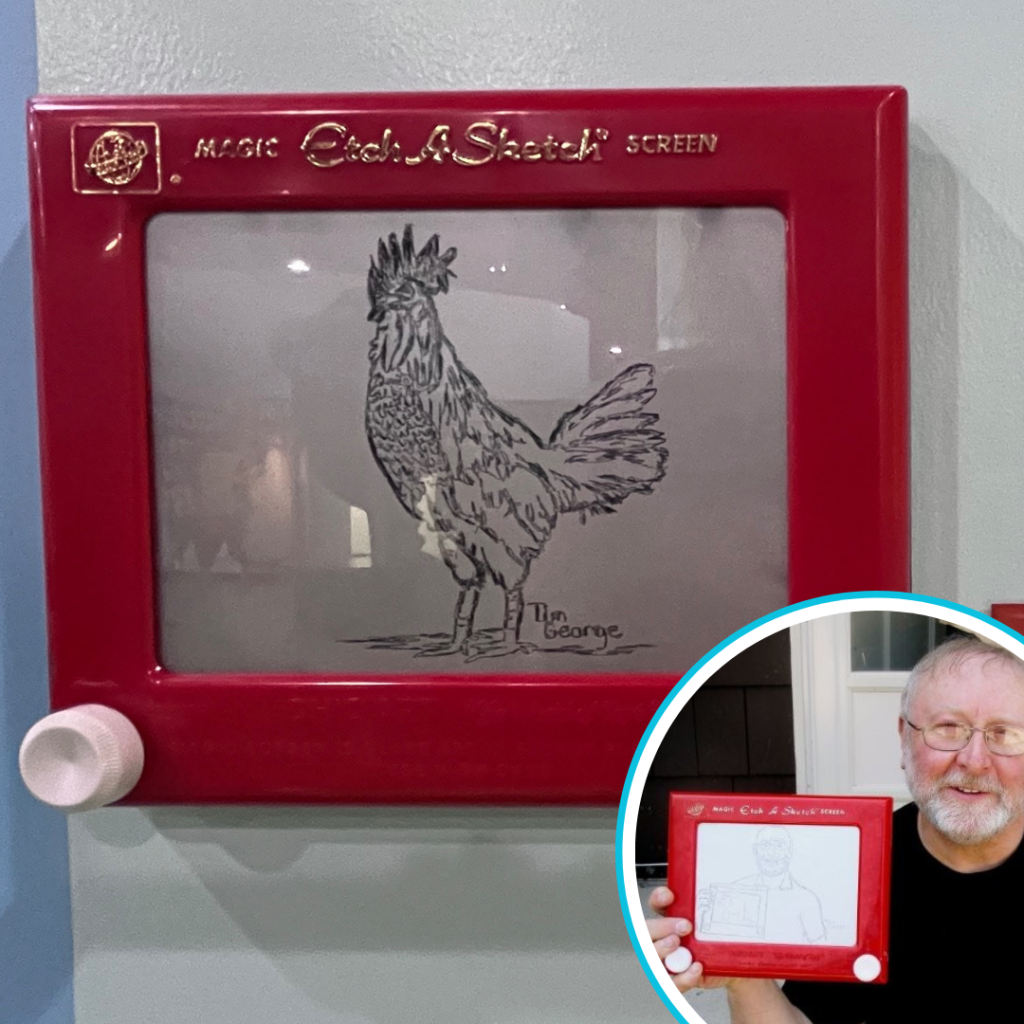 Etch-A-Sketch Portraits
Tim George is a renowned etch-a-sketch artist with over 400 pieces of art created with the toy. His art has been featured in the children's book "Looking at Animals with Mr. Etch-A-Sketch."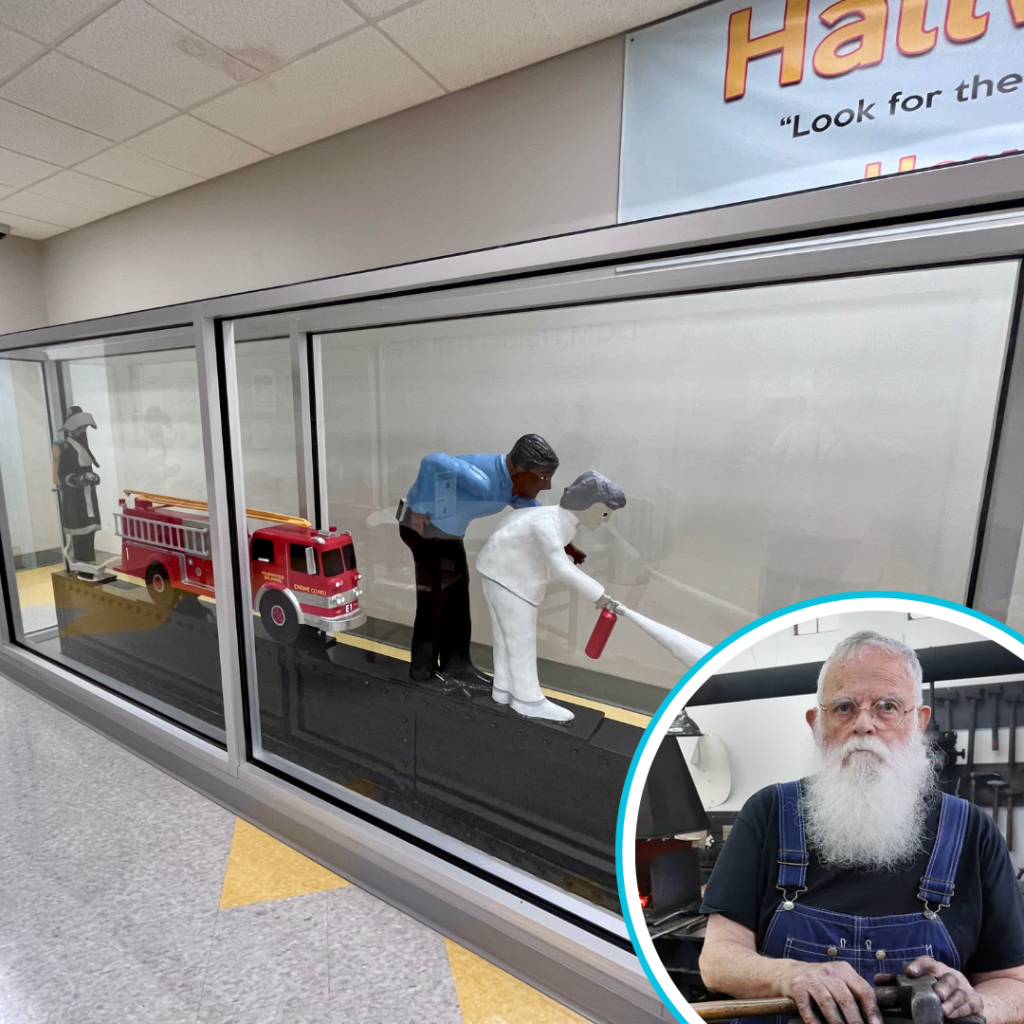 Dial 9-1-1 Sculpture
George Greenamyer original primarily worked on ceramics, but in the early 1970's he began working in metals. In 1986, the Wilmington Arts Commission began accepting applications for a new urban art installation to be displayed int he city. Greenamyer submitted his idea for Dial 911, which was selected over many outstanding ideas. The sculpture was installed in 1988 at the Public Safety Building in Wilmington, where it remained until September of 2018, when it was restored and moved to the Hallway of Helpers at DCM!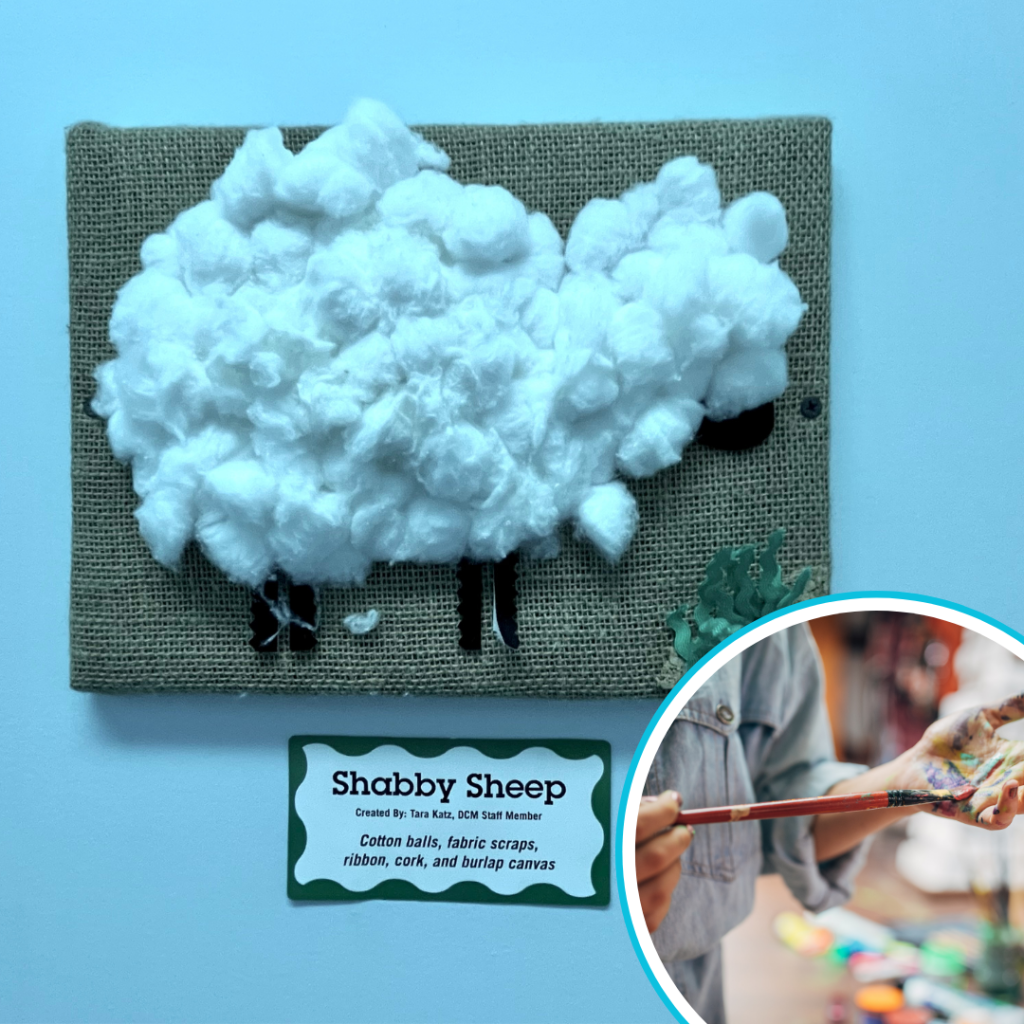 Mixed Media Animal Portraits
Tara Katz, a former DCM employee, creates mixed-media portraits made out of items like cotton balls, fabric scraps, ribbon, cork, feathers, pompoms and more. You can find her burlap canvases featuring Shabby Sheep, Pinky the Pig, and Wild Chick in the Nursing Room at DCM.